Aroma 24/7 is a leading scent marketing company based in Dubai, UAE With a presence in more than 20 countries.
AROMA 24/7 has a wide range of Scent Diffusers, Scent Oils, Reed Diffusers, and Scented Candles in store.
CHOICE OF SCENT IS PERSONAL!
Here is how AROMA 24/7 is doing it. We will send you 12 scents from a selection of our scents for a nominal cost.
Selecting a scent without smelling is something we do not recommend! A scent that's liked by one may not be necessarily a choice of yours. AROMA 24/7 understands this personal connection of scents. You are most welcome to our showroom to experience and choose out of our 200+ scent collection. The next best thing would be to take a few from our collection to you!
Highly advanced scent diffusers for all spaces
Explore the extensive range of AROMA 24/7 scent collections.
HARNESS THE POWER OF SCENT MARKETING TO GROW YOUR BUSINESS
Whether you're a hotel, spa, car dealership, retail store, office, fitness center, or in a different business vertical, integrate our proven scent marketing strategy into your marketing plans to promote brand awareness and create a luxurious atmosphere that is guaranteed to make lasting impressions in your customers.
SMART SCENT DIFFUSERS
CONTROL FROM ANYWHERE FROM ANY SMART DEVICE
The diffuser system has built-in wifi, Ethernet port, BlueTooth connectivity, and /or USB ports (based on models). They can be easily connected to our cloud platform and managed via the easy to use a mobile application.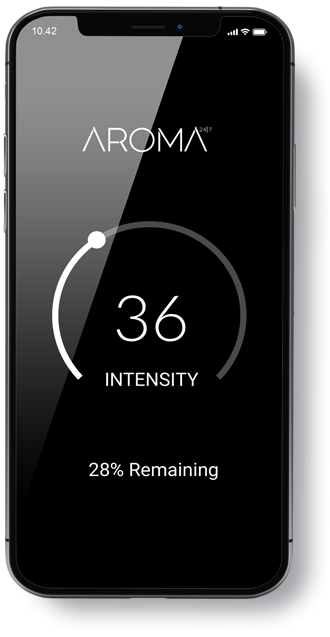 ANALYTICS
The cloud connection will let you access reports and log on the usage of the diffuser
SMART
Alerts when aroma oil level gets low or critical. The smart level indicator gives you the status level.
SECURE
System implements Cryptographic co-processor with secure hardware-based key storage
IN-BUILT CLOCK
Inbuilt Real time Clock for real time based operation control
CLOUD ACCESS
Can be hooked to any cloud platform, including Google Cloud
CENTRALISED
Manage multiple scent machines from a single application, centrally.
KNOW MORE
Nightclubs and bars are places where bad odor could be the norm. Drinks, smoke and sweat within a closed environment can make the place unwelcoming.

AROMA 24/7 brings you the finest of essential oils that are of different origins and smell.The range of essential oils AROMA 24/7 brings you are extracted from

Small Scent diffusers and spray systems are not a good solution when it comes to scenting large areas like a shopping mall